From 550$CA
« JOIE DE VIVRE » Package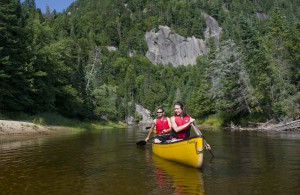 Valid from June 1st 2019 to November 31th 2019*
Treat yourself to two nights in a Selenia Lodge apartment and discover the Mont-Tremblant National Park, Quebec's largest park with six large rivers and 400 lakes and streams, 82 km of hiking trails and more of 40 species of mammals. This excursion will make you discover a territory that will definitely charm you. 
Sale price: $550.00 per 2 persons per 2 nights
This package includes:
Two nights in a Selenia Lodge Garden apartment 1 bedroom
Continental breakfast basket
A day at Mont-Tremblant National Park with canoeing (self guided) 
Transportation from Selenia Lodge  to Mont-Tremblant National Park
Unlimited access to the facilities of Selenia Lodge: spa, relaxation area ...
Reservation only possible via email or phone: +1 819 687 87 10
* Subject to availability and snow